For OEMs and other customers looking to connect with a premium power solutions supplier, John Deere Power Systems is your direct link to a global network of application engineers, distributors, and support teams who will help you apply power to your needs—all backed by the world-class John Deere brand.
Next-Generation Engines
Final Tier 4/Stage V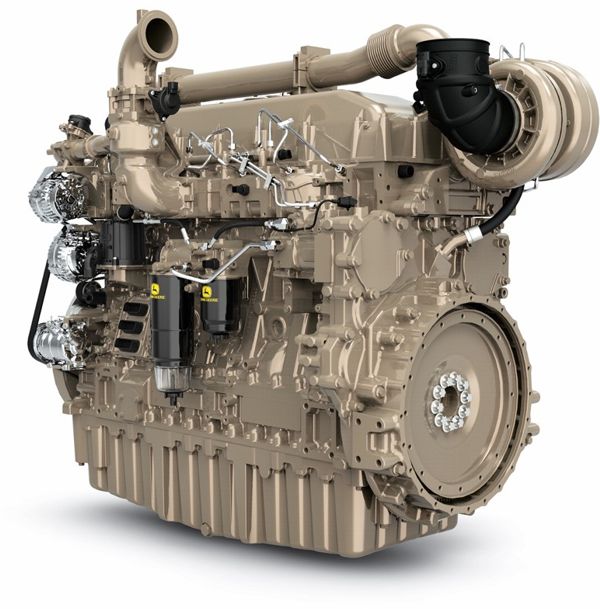 When it comes to choosing an engine for your equipment, the right power and price matter. With John Deere performance levels, you'll always get the ideal engine for your application. We make it easy to get proven John Deere quality with the exact level of efficiency and affordability that fits your specifications.
The next-generation John Deere industrial engines were developed from the ground up, leveraging our best technologies in new ways to meet both market and customer demands.
The result is engines that deliver new levels of reliability, durability, flexibility, and serviceability and are easily integrated with an array of heavy-duty applications.
JD18 - Expanded Power
With the addition of the new JD18 to our engine range, you can put John Deere power and performance in your entire lineup of equipment from 36 to 676 kW (48 to 907 hp). Streamline your equipment power with the help of the high horsepower JD18 engine. When developing this engine, John Deere adopted a "clean-sheet design" mindset and utilized proven technologies to optimize the final product. This engine provides installation flexibility and compact packaging for easy machine integration. With this design, John Deere continues to deliver increased performance, reliability and durability, as well as overall value to its OEM customers and end users.
Generator Drive Engines
John Deere generator drive engines are ready when and where you need them. They provide fast response for standby situations and exceptional load recovery in a wide variety of applications.
Engines for EU Stage V and EPA Final Tier 4 Applications
OEM customers currently using a John Deere Stage IV engine with a DPF won't have to reengineer the machine design to meet the requirements of Stage V regulations. Both 50 Hz and 60 Hz configurations are EU Stage V and EPA Final Tier 4 certified.
Engines for EPA Final Tier 4 Applications
John Deere offers a full line of generator drive engines to give generator set manufacturers more choices for meeting EPA Final Tier 4 emissions regulations without the need for a diesel particulate filter (DPF). These diesel oxidation catalyst/selective catalytic reduction (DOC/SCR) engines provide compact power with low installation costs. Both 50 Hz and 60 Hz configurations are EPA Final Tier 4 certified.
Engines for EPA Tier 3 and EU Stage III A Applications
These mechanical and electronic engines for emergency standby applications provide reliable, compact power with low installation costs. Non-emissions certified engines are also available for nonregulated markets.
Engines for Non-Emissions Certified Applications and Regions Not Subject to Emissions Regulations
John Deere offers a full range of non-emissions certified engines suitable for generator sets in countries that currently haven't established emissions regulations and for stationary gen-sets in the EU. Power nodes from 30 to 200 kVA are covered by the PowerTechTM M platform (mechanical fuel system) while 225 to 500 kVA nodes are covered by the PowerTech E platform (HPCR fuel system and full authority electronic controls).
Marine Engines
John Deere Power Systems is fully prepared to meet the needs of its global maritime customers with marine propulsion, generator, and auxiliary power solutions designed to meet the requirements of various international marine directives. The full lineup of John Deere marine engines will comply with several emissions regulations, with a displacement range of 4.5L to 13.5L and a power range of 40 to 559 kW (54 to 750 hp).
Newest 4.5L Marine Engines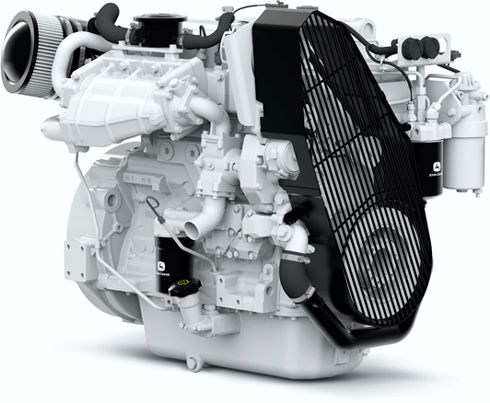 The 4045SFM85 engine from John Deere offers high power-to-weight ratio for repowering and new boat construction. It is ideal for planing and semi-displacement hulls. The engine has two ratings for light-duty commercial vessels, high-speed governmental applications and high-speed pleasure craft: an M4 rating with 205 kW (275 hp) at 2600 rpm and M5 rating with 235 kW (315 hp) at 2800 rpm. The engine uses a waste-gated turbocharger that provides more torque capability at the low and middle rpm range, which is most notable during vessel acceleration. Replaceable cylinder liners make it possible to rebuild the engine for extended service life.
The John Deere 4.5L engine joins the lineup of John Deere Marine Tier 3 propulsion engines. The 4045SFM85 ratings meet U.S. Environmental Protection Agency Marine Tier 3 and Recreational Craft Directive II emissions regulations, as well as International Maritime Organization Tier II standards for commercial and recreational applications. The engine is pending approval by American Bureau of Shipping, DNV GL, Lloyd's Register, and Bureau Veritas. The 4045SFM85 will be the only ABS-certified, 315 hp, 4-cylinder in-board diesel engine available on the market.
Marine auxiliary engines
John Deere also introduced marine-classified 6090HFM85 and 6135HFM85 engines specifically designed for radiator-cooled marine gen-set and auxiliary applications. The 6090HFM85 is rated for variable speed at 242 kW (325 hp) at 2000 rpm and for generator drive and constant speed auxiliary at 262 kW (351 hp) at 1800 rpm. The 6135HFM85 is rated for variable speed at 373 kW (500 hp) at 2000 rpm and for a generator drive and constant speed auxiliary at 458 kW (614 hp) at 1800 rpm.
The 9.0L and 13.5L auxiliary engines are well-suited for gen-set, constant speed, and variable speed auxiliary applications, particularly when wet manifolds and marine society classification certificates are desired or required. The ratings of both engines meet EPA Marine Tier 3 emissions regulations and are compliant with IMO Tier II standards for commercial applications. The engines are type-approved by the ABS.
Integrated Powertrain Solutions
John Deere is well-versed in the integration of electrical generators and motors, power electronics, and mechanical drivetrain interfaces. With more than two million operating hours of proven performance in the field, John Deere electric drivetrain components are available in multiple configurations to help OEMs implement electric and hybrid drive systems in their off-highway applications.
In February 2022, John Deere acquired majority ownership in Kreisel Electric Inc., a pioneer in the development of immersion-cooled battery technology. The Austrian company manufactures high-density, high-durability electric battery modules and packs for high-performance and off-highway applications and has created a battery-buffered, high-powered charging infrastructure platform (CHIMERO).
About Deere & Company
Deere & Company (www.JohnDeere.com) is a world leader in providing advanced products, technology and services for customers whose work is revolutionizing agriculture and construction—those who cultivate, harvest, transform, enrich and build upon the land to meet the world's increasing need for food, fuel, shelter and infrastructure.
John Deere Power Systems manufactures and markets industrial, marine and generator drive diesel engines, as well as drivetrain components for use in a variety of off-highway applications.
JDPS can be contacted at 800-JD-ENGINE (800-533-6446), or via e-mail at jdpower@JohnDeere.com. Information about the full line of JDPS engines and drivetrain components is available online at JohnDeere.com/JDPower.