Industrial Engines
Final Tier 4/Stage V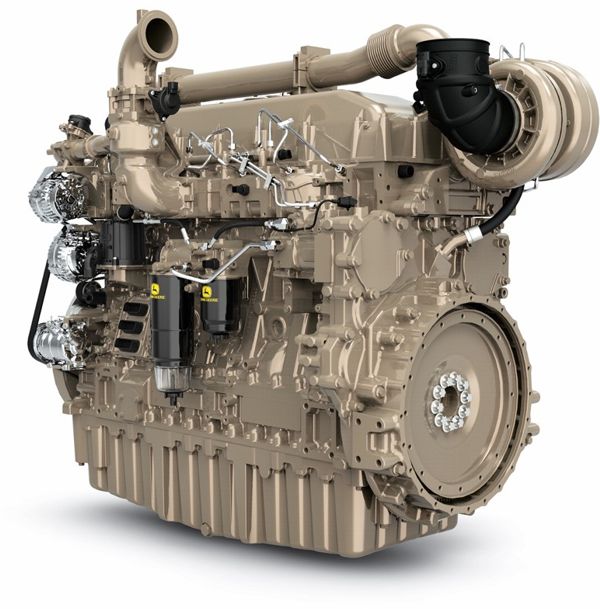 John Deere Power Systems is well-positioned to lead its OEM customers through upcoming emissions transitions, thanks to its global field-tested experience. Through each stage of consecutive emissions regulations, John Deere provided solutions that addressed key customer needs. These included increased uptime, low operating costs and flexible integration.
John Deere has long followed a building block approach to implementing emissions solutions, and the same goes for Final Tier 4/Stage V-ready engines. The John Deere lineup of engines is optimized for increased torque response, low-speed torque, fluid efficiency and provides responsive power at higher altitudes. The lineup of Final Tier 4/Stage V-ready engines from John Deere includes engine displacements of 2.9L, 4.5L, 6.8L, 9.0L and 13.5L with ratings of 36 – 448 kW (48 – 600 hp).
13.6L Engine
The 13.6L engine from John Deere, which will also be Stage V compliant, is an outstanding example of the company's leadership in providing innovative emissions solutions. When developing this engine, John Deere adopted a "clean-sheet design" mindset and utilized proven technologies to optimize the final product. This engine provides installation flexibility and compact packaging, allowing for easy machine integration. With this design, John Deere continues to deliver increased performance, reliability and durability, as well as overall value to its OEM customers and end-users. The 13.6L engine is scheduled for future production.
Aftertreatment: downsized, optimized and simplified
OEMs will benefit from the continual product improvements and advancements from John Deere by retaining the same engine performance in a reduced package size. Final Tier 4/Stage V aftertreatment technologies from John Deere are optimized for flexible integration and offer reduced packaging and weight from previous Final Tier 4/Stage IV solutions.
John Deere also offers aftertreatment options below 174 hp for OEM customers. Depending on the application and customer requirements, the Integrated Emissions Control System can be equipped with or without a DPF while still meeting emissions regulations. Furthermore, the current John Deere lineup also provides a variety of selectable options. This lets manufacturers customize their engines, allowing for easy installation into their existing designs.
Generator Drive Engines
John Deere Power Systems offers an extensive lineup of standby and prime generator drive engines that meet emissions regulations in displacements from 2.9L to the future 13.6L. Standby generator drive engines cover ratings from 30-500 kWe and include non-emissions certified and EPA Tier 3 options. Prime generator drive ratings are offered from 28-400 kWe and include non-emissions certified; EU Stage III A and Stage V; and EPA Final Tier 4 options.
John Deere also offers two lines of engines for EPA Final Tier 4 applications — one with a DPF aftertreatment solution and one without. Both of these lines include displacements from 4.5L to 13.5L. It is a priority for John Deere to deliver on their customers' needs of integration flexibility while remaining emissions compliant.
John Deere is a trusted partner for all gen-set OEMs. The company focuses on offering bare engines and power units, keeping the needs of its OEM partners top-of-mind. In addition, the current John Deere gen-drive lineup provides a wide variety of selectable options.
Marine Engines
John Deere Power Systems is fully prepared to meet the needs of its global maritime customers with marine propulsion, generator and auxiliary power solutions designed to meet the requirements of various international marine directives. The full lineup of John Deere marine engines will comply with several emissions regulations, with a displacement range from 4.5L to 13.5L and a power range of 54 to 750 hp (40 to 559 kW).
Newest 4.5L marine engines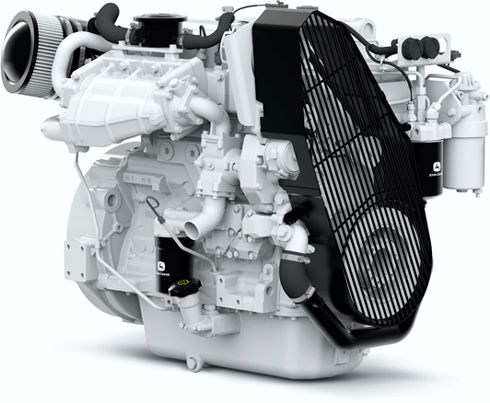 The 4045SFM85 engine from John Deere offers high power to weight ratio for repowering and new boat construction, and is ideal for planing and semi-displacement hulls. It has two ratings for light-duty commercial vessels, high-speed governmental applications and high-speed pleasure craft, which includes an M4 rating with 275 hp (205 kW) at 2600 rpm and M5 rating with 315 hp (235 kW) at 2800 rpm. The engine uses a waste-gated turbocharger that provides more torque capability at the low and middle rpm range, which is most notable during vessel acceleration, and features replaceable cylinder liners, making it possible to rebuild the engine for extended service life.
John Deere's 4.5L engine joins the lineup of John Deere Marine Tier 3 propulsion engines. The 4045SFM85 ratings meet U.S. Environmental Protection Agency Marine Tier 3 and Recreational Craft Directive II emissions regulations, as well as International Maritime Organization Tier II standards for commercial and recreational applications. The engine is pending approval by American Bureau of Shipping, DNV GL, Lloyd's Register and Bureau Veritas. The 4045SFM85 will be the only ABS-certified, 315 hp, 4-cylinder in-board diesel engine available on the market.
Newest marine auxiliary engines
John Deere also introduced marine classified 6090HFM85 and 6135HFM85 engines specifically designed for radiator-cooled marine gen-set and auxiliary applications. The 6090HFM85 is rated for variable speed at 325 hp (242 kW) at 2000 rpm and for generator drive and constant speed auxiliary at 351 hp (262 kW) at 1800 rpm. The 6135HFM85 is rated for variable speed at 500 hp (373 kW) at 2000 rpm and for a generator drive and constant speed auxiliary at 614 hp (458 kW) at 1800 rpm.
The 9.0L and 13.5L auxiliary engines are well-suited for gen-set, constant speed and variable speed auxiliary applications, particularly when wet manifolds and marine society classification certificates are desired or required. The ratings of both engines meet EPA Marine Tier 3 emissions regulations and are compliant with IMO Tier II standards for commercial applications. The engines are type approved by the ABS.
Integrated Powertrain Solutions
The engines, drivetrain components and power electronics from John Deere Power Systems have a reputation for durability and reliability. Furthermore, as one of the few engine manufacturers that offer components for an integrated drivetrain system, John Deere can provide a seamless solution from the engine to the drivetrain.
OEMs will benefit from the investments John Deere has made in the integration of these systems into complete mechanical and electric powertrain solutions for mobile off-highway machines — boosting performance, maximizing uptime and lowering cost of operation.
About Deere & Company
Deere & Company (NYSE: DE) is a world leader in providing advanced products and services and is committed to the success of customers whose work is linked to the land — those who cultivate, harvest, transform, enrich and build upon the land to meet the world's dramatically increasing need for food, fuel, shelter and infrastructure. Since 1837, John Deere has delivered innovative products of superior quality built on a tradition of integrity. John Deere Power Systems manufactures and markets 30 kW to 448 kW (40 hp to 600 hp) industrial diesel engines and 56 kW to 559 kW (75 hp to 750 hp) marine diesel engines, as well as drivetrain components for use in a variety of off-highway applications.
JDPS can be contacted at 1-800-JD-ENGINE (1-800-533-6446), or via e-mail at jdpower@JohnDeere.com. Information about the full line of JDPS engines and drivetrain components is available online at www.JohnDeere.com/jdpower.