Scania introduces Euro VI engine without EGR
10 June 2014
Scania introduced a new 450 hp version of their 13 liter, 6-cylinder, Euro VI truck engine that uses only SCR technology for NOx reduction and does not require exhaust gas recirculation (EGR). The engine also uses a diesel particulate filter (DPF) aftertreatment to meet Euro VI emissions.
The elimination of EGR allowed to improve fuel economy—by about 1%—and to reduce complexity. The new Scania engine model—DC13 147—requires neither a variable geometry turbocharger nor an EGR cooler. The engine is intended for European long-haulage customers who prioritize low fuel consumption.
On the other hand, the non-EGR engine uses more urea (AdBlue)—normally an average of 6% of diesel fuel, while Scania engines with EGR and SCR normally consume up to 3%. Scania offers AdBlue tanks of increased volume with the new engine, including special solutions that use vacant space inside the frame.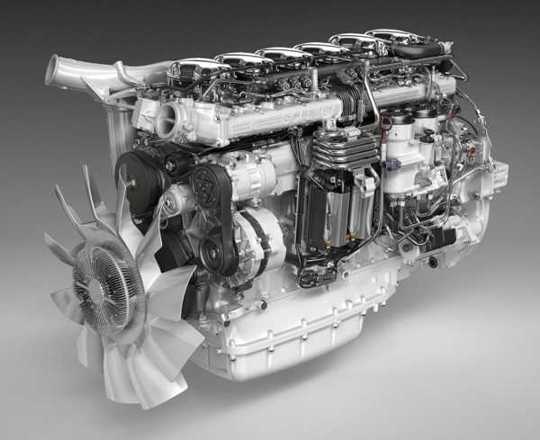 The new engine model has a maximum torque of 2,350 Nm which is available from 1,000 rpm.
A specially adapted version of the 450 hp engine is available that can be operated with B100 biodiesel. Due to the increased NOx with biodiesel, the engine uses both EGR and SCR for NOx control.
All Euro VI engines by Scania (as well as other manufacturers) use wall-flow DPF technology to meet the Euro VI particle number emission limit. Scania Euro VI DPF is designed to regenerate continuously while driving. A forced regeneration can be activated by the driver at standstill.
Non-EGR engines are enabled by highly efficient SCR catalyst systems. Iveco was the first manufacturer to introduce a Euro VI non-EGR engine. In the nonroad market, Cummins introduced a non-EGR, Tier 4 QSM12 engine.
Source: Scania