EU market share of diesel cars falls to 39.5%
27 March 2018
The share of diesel vehicles in the European market continues to decline. In February 2018, the diesel market share fell to 39.5%, with volume falling by a significant 12.8 percentage points, according to data by Jato Dynamics.
This was largely caused by falling demand in Germany and the UK, where diesel vehicle registrations decreased by 19.2% and 23.5% respectively. Demand for petrol is continuing to grow as diesel declines—petrol registrations increased by 16% in February. Alternative-fuelled-vehicles (including HEV, PHEV and BEV) have also increased, growing by 18.5%.
The diesel market share reached it's maximium of 55% in 2011. The declining market share in the following years was at first caused by the introduction of Euro 5b and Euro 6 vehicles, which required increasingly more costly emission systems. The decline of diesels accelerated sharply last year, driven largely by the policy uncertainities and restrictions on the operation of diesel vehicles considered by a number of cities in the UK, Germany and other countries.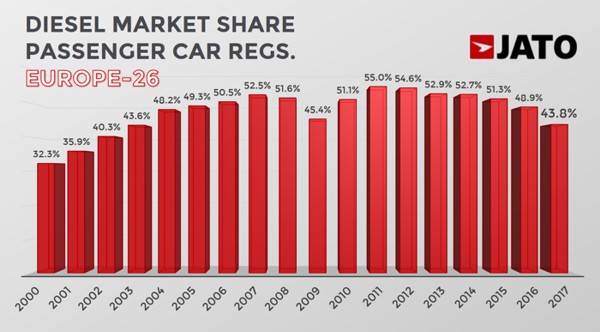 The trend for diesel registrations declining—combined with rising petrol registrations as well as increases in SUV registrations—makes it increasingly more challenging for auto makers to meet the EU CO2 emission targets. In 2017, CO2 emissions from cars increased by 0.3 g/km, reaching 118.1 g/km, according to Jato Dynamics.

The increase of SUV sales creates further challenges to CO2 emission reduction. Demand for SUVs continued to rise in February, with the segment's volume up by 24.7% to 382,600 units, a record level for the month. This meant that one in every three cars registered in February 2018 was an SUV.
The 2020 CO2 emission target for cars is 95 g/km. Unless demand for electric vehicles rapidly increases soon, this target will be very difficult to meet.
Source: Jato Dynamics