ACEA: Proposed post-2020 CO2 targets unrealistic
29 June 2018
A study by the European Automobile Manufacturers' Association (ACEA) shows that the affordability of electric cars remains a strong deterrent for customers across the EU. The ACEA analysis, which compares national data on the market uptake of electrically-chargeable vehicles (ECVs) with GDP per capita, shows that the market share of ECVs is close to 0% in countries with a GDP below €18,000, while it is no more than 0.75% in half of all EU member states.
As members of European Parliament committees get ready to vote on the European Commission's proposal for post-2020 car CO2 targets, ACEA cautioned that the targets must be realistic, taking into account what people can actually afford to buy. "A natural shift to electric vehicles will simply not happen without addressing consumer affordability," said ACEA Secretary General, Erik Jonnaert.
The proposed post-2020 CO2 emission reduction targets could be only achieved through significant electrification of the EU vehicle market, with a proposed 'benchmark' for the sales of full battery-electric cars at 15% by 2025, and 30% by 2030. To put this in context, battery-electric cars accounted for just 0.7% of total EU car sales in 2017.
"We are worried that some policy makers have completely unrealistic expectations regarding the pace of market development," said Jonnaert. "Already with the Commission's current proposal for a benchmark, we would need to jump from less than 1% of battery electric car sales today to 30% in the space of less than 12 years. And the Parliament is proposing even more aggressive targets, going as far as 50%."
The new ACEA data not only show a split in electric car sales between Central-Eastern and Western Europe, but also a pronounced North-South divide (e.g., Greece 0.2%, Italy 0.2% and Spain 0.6%). By contrast, an ECV market share of above 1.8% only occurs in countries with a GDP of more than €35,000.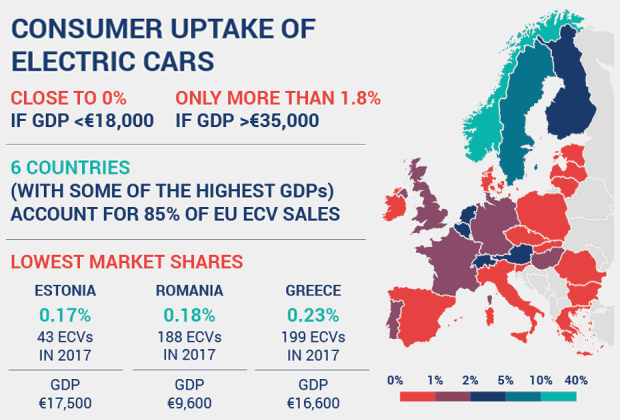 In order to compensate for this highly fragmented market, over 50% of all new cars sold in Western Europe would have to be battery electric in order to reach an EU-wide average benchmark of 30% by 2030, according to ACEA estimates.
ACEA's Secretary General has also issued a message calling for a relaxation of the proposed CO2 targets for light commercial vehicles (LCV, vans).
When it comes to further reducing CO2 emissions from road transport, the situation for vans is completely different to that for passenger cars. (...) Customers will only consider purchasing alternatively-powered LCVs if their cost and productivity are comparable to those of vans with conventional engines. After all, businesses are just not willing to sacrifice payload for lower fuel consumption. Given the limited range of electrically-chargeable vans and their long charging times, such vehicles are generally only used for city centre distribution or other relatively short distances.

That is also why diesel vehicles continue to make up more than 96% of the new van fleet. Hence, the CO2 ambition level for vans should be significantly lower than the post-2021 targets set for passenger cars. Moreover, given that the electrification potential of LCVs is much lower than cars, the 2030 low-emission vehicle benchmark proposed by the Commission should also be lowered for vans.
The European Parliament's Committees on industry (ITRE) and transport (TRAN) will vote on the CO2 proposal on July 10, 2018.
Source: ACEA