Conventional oil & gas discoveries show uptick in 2018
17 December 2018
Discoveries of conventional oil and gas increased in 2018, reversing a declining trend in the recent years, according to data by Rystad Energy. Guyana, Russia and the United States top the list with major discoveries.
Discovered resources have already surpassed 8.8 billion barrels of oil equivalent (boe) for 2018. Rystad Energy expects the number to grow to 9.4 billion boe by year-end, and expects this discovery trend to continue into 2019.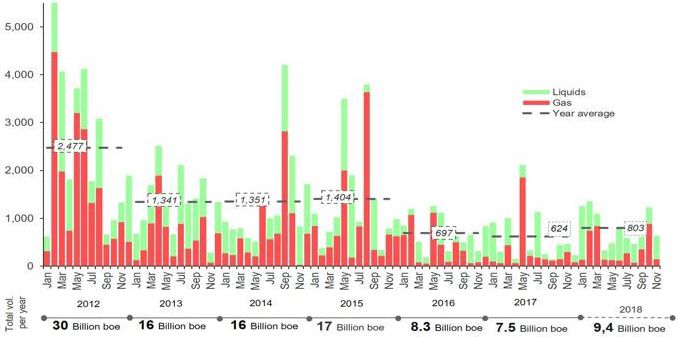 The majority of the discoveries—around 82% of total volumes—are offshore resources. "Conventional" oil and gas discoveries reported by Rystad include both onshore and offshore resources (including deepwater), and exclude shale or oil sand resources.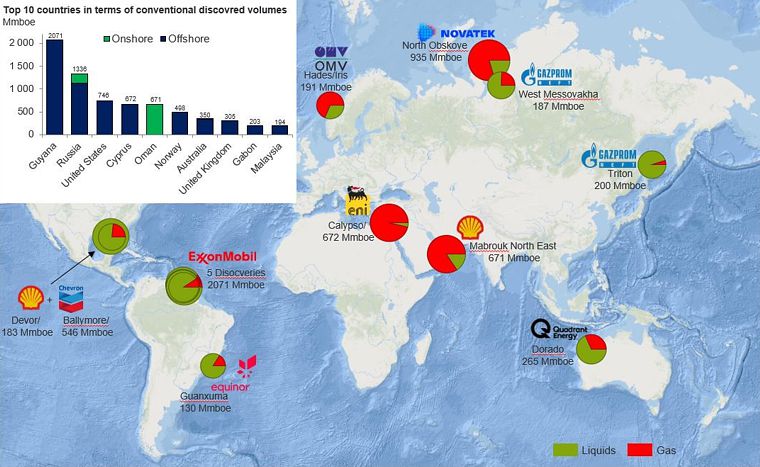 2018 has also seen a significant uptick in the reserve replacement ratio—the amount of proved reserves added during the year relative to the amount of oil and gas produced—to around 15% from 11% in 2017, Rystad said. However, a reserve replacement ratio of 15% is still disturbingly low—it means that the world's oil and gas consumption was more than six times higher than new discoveries. In 2018, the world will consume about 60 billion boe (~8.2 billion tonnes oil equivalent) of oil and gas.
Guyana, Russia and the United States top the discovery countries ranking:
Offshore Guyana, ExxonMobil registered its tenth discovery in the prolific Stabroek block, boosting its recoverable resources from the block to about 5 billion barrels of oil equivalent.
Offshore Russia, Novatek drilled its first exploratory well in the North Obskoye block in the shallow waters of Ob Bay. This is the largest discovery to date this year and is estimated to hold recoverable resources of around 960 million barrels of oil equivalent.
In the US Gulf of Mexico, Chevron and Shell registered oil discoveries in the Ballymore and Dover prospects. Rystad Energy estimates combined recoverable resources of around 728 million boe from these two discoveries.
Other relevant discoveries included Eni's Calypso gas discovery offshore Cyprus, Petroleum Development Oman's Mabrouk North East gas/condensate discovery in Oman and Quadrant Energy's Dorado oil discovery in Australia. The Calypso discovery confirmed the extension of a play in the Cyprus Exclusive Economic Zone that resembles the giant Zohr field to the south in Egyptian waters, and Dorado was one of the largest discoveries ever in Australia's North West Shelf. Rystad Energy estimates that these fields hold cumulative recoverable resources of around 1.6 billion boe.
Exploration spending decreased by nearly 61% from 2014 to 2018. Exploration investments halted their fall in 2018 and are expected to rise in 2019.
Source: Rystad Energy