Mack announces updated MP8HE engine with turbocompounding
27 October 2020
Mack Trucks announced a new version of its 13-liter Mack MP8HE engine that improves fuel efficiency by up to 3% compared to the current MP8HE, according to the company. Mack Anthem truck models spec'd with Mack's new extended chassis fairings and the Mack HE+ efficiency package, which includes the revised MP8HE engine, now deliver up to a 13% improvement in fuel efficiency compared with a baseline Anthem model.
The MP8HE engine is an inline, 6-cylinder diesel with bore and stroke of 131 × 158 mm and a displacement of 13 liters. Like its predecessor, it is rated at 415 and 445 hp with 1,760 and 1,860 lb-ft of torque, respectively.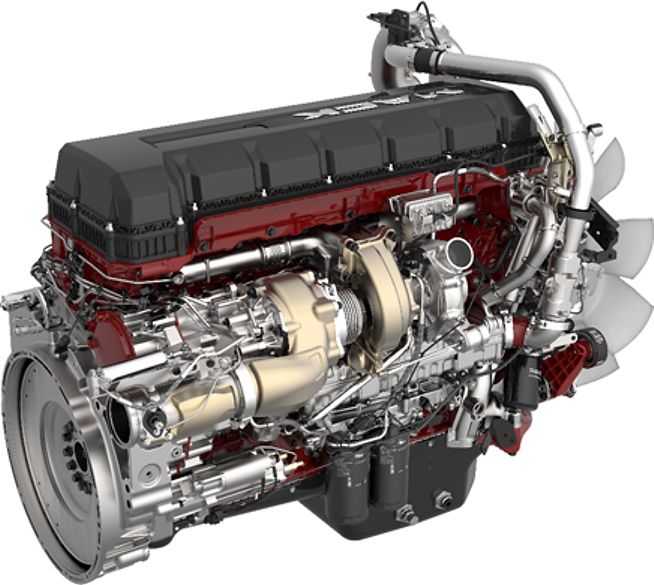 The updated MP8HE engine features a turbocompounding system, dubbed Mack Energy Recovery Technology, which captures waste energy from the engine's exhaust, converting it back into mechanical energy delivered to the engine crankshaft as additional torque.
Other changes to the MP8HE engine include an updated wave piston design, an increased compression ratio from 17:1 to 18:1, and an improved turbocharger and wastegate.
The Mack HE+ efficiency package bundles the MP8HE engine, the Mack mDRIVE™ automated manual transmission, Mack Predictive Cruise, and aerodynamic enhancements. The HE+ package can also be combined with Mack's all-new extended chassis fairings, which smooth airflow around the rear axles to deliver an additional 0.5% improvement in fuel efficiency.
Source: Mack Trucks