Navistar introduces International® S13 Integrated Powertrain
17 August 2023
Navistar unveiled the International® S13 Integrated Powertrain during an exclusive live event held for dealers, customers and industry press at the Las Vegas Motor Speedway. The new S13 powertrain was developed over five years through global collaboration with other members of the Traton Group.
The S13 Integrated Powertrain features a clean sheet design with the S13 engine, T14 transmission and 'dual stage' aftertreatment developed and integrated concurrently, to ensure maximum efficiency without compromising performance. Compared to the 2017 GHG International® A26 engine specified with the 12-speed overdrive Eaton Endurant HD automated transmission, the S13 Integrated Powertrain is the lightest weight powertrain on the market. With the same comparison when specified with the updated International LT® Series truck aerodynamics package, the S13 Integrated can offer up to a 15% gain in fuel efficiency, according to Navistar.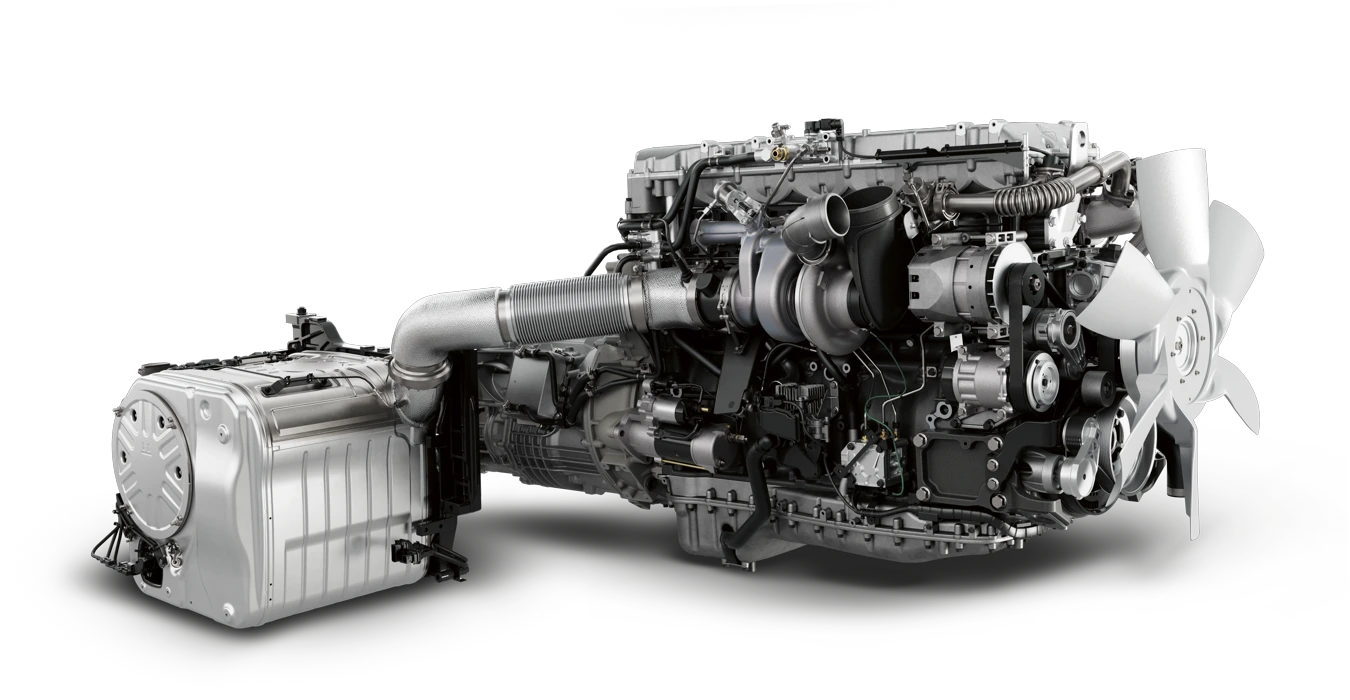 The S13 engine introduces several innovative technologies, still uncommon in commercial heavy-duty engines in North America. These include a dual stage, dual dosing SCR catalyst system and uncooled EGR. The key features of the S13 Integrated Powertrain include:
S13 inline, 6-cylinder diesel engine, 12.7 liter displacement, 23:1 compression ratio
Fixed geometry turbocharger
1,800 bar common-rail fuel system
Hot, uncooled EGR (i.e., no EGR cooler)
B10 engine design life of 1,200,000 mi (1,931,000 km)
14-speed single countershaft geartrain transmission with 2 crawler gears
Compact 'dual stage' aftertreatment designed to minimize heat losses and packaging
Dual stage SCR catalysts with upstream and midstream urea (DEF) dosing
DPF that relies on passive regeneration, with a cleaning/replacement interval of 650,000 mi @ >8.2 mpg
The S13 Integrated Powertrain was designed using a modular system approach. The Traton Group modular system enables cross-brand development and production, while still allowing for regional adaptation and validation of the S13 Integrated Powertrain for the North American market. The S13 powertrain is the first Group-wide demonstration of a modular solution, Navistar said.
The S13 Integrated Powertrain will be manufactured at Navistar's Huntsville Powertrain Manufacturing Plant in Huntsville, AL, USA.
Source: Navistar