John Deere showcases its next generation diesel engines
5 November 2022
John Deere Power Systems (JDPS) showcased its latest powertrain technologies at bauma 2022, 24–30 October, including their 'Next Generation Engines' that include the JD4, JD14, and JD18 models. With these new powerplants, the John Deere engine lineup covers a power range from 36 to 677 kW (48 - 908 hp). The JD14 and JD18—intended to 'future proof' JDPS' new large engine architecture—were on display at bauma.
The new engines feature rear geartrains, to provide more flexibility for auxiliary power on the equipment they are situated in, and overhead cams for better fuel economy.
The 13.8 L JD14 6-cylinder inline engine has a reduced footprint that allows more space and easier integration compared to its predecessor. It has power ratings from 300 to 510 kW (402 to 684 hp) at 2100 rpm and a peak torque of 3050 Nm (2250 lb-ft). The engine meets US Tier 4 Final/EU Stage V emissions utilizing JDPS' inline integrated emissions control system with external cooled EGR. The aftertreatment system includes an SCR system and a DPF for Stage V and SCR without a DPF in the Tier 4 version.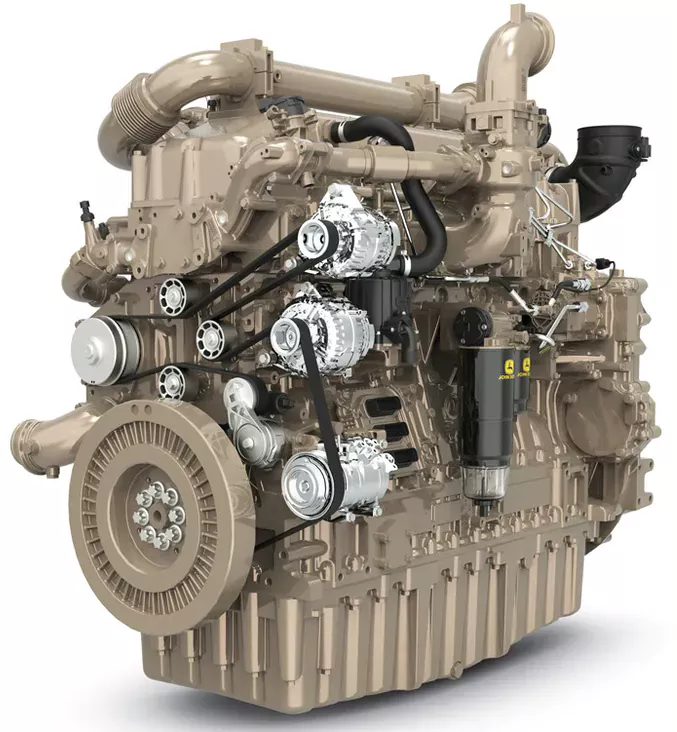 The JD18 builds upon the JD14 while delivering a higher power output. It is rated 522-677 kW (700-908 hp) at 1900 rpm and supplies 4250 Nm (3135 lb-ft) of peak torque. Its rear geartrain produces increased direct power with the option of one or two rear auxiliary drives for a total of 902 Nm (665 lb-ft) maximum torque. The JD18 engine does not use emission aftertreatment, as engines above 560 kW do not have a Stage V PN emission limit, while the Tier 4/Stage V NOx emission limit is 3.5 g/kWh.
Both engines incorporate an electronic high-pressure common rail fuel system and air-to-air aftercooled turbocharging. For even greater performance, the JD18 offers in-series turbocharging with a single or dual turbo.
The JD14 and JD18 engines can be fueled by renewable diesel such as hydrogenated vegetable oil (HVO) and by biodiesel up to B20 as a direct diesel replacement.
The engines are intended for construction and agriculture equipment. They can also be used, in other applications requiring higher power and torque, such as large pumps and marine applications.
Source: John Deere | Diesel Progress