PN-PTI testing starts in more European countries
10 January 2023
The Netherlands and Switzerland started particle number-based tests during periodic technical inspections (PN-PTI) of diesel vehicles equipped with diesel particulate filters (DPF), effective 1st January 2023. Germany is expected to implement PN-PTI testing requirements later this year.
The PN-PTI test involves the use of a particle counting instrument to detect particulate filter removal/tampering or other DPF malfunctions. The test is performed at idle, with the vehicle stationary, using a portable PN tester. The PN-PTI test replaces older PTI methods based on smoke measurement that are not sensitive enough for modern diesel engines.
Belgium was the first European country to implement PN-PTI testing. The PN-PTI test became effective from July 2022 in all three Belgian regions, including Flanders, Wallonia, and Brussels. The program is applicable to M1 and N1 diesel vehicles with a DPF, meeting Euro 5a or Euro 5b (depending on the region) or later emission standards. Owners of vehicles that fail the test have to repair or replace the DPF. However, due to shortages of replacement DPFs, the time period to complete the repairs has been extended to one year.
In the Netherlands, where PN testing started this month, the program applies to both light- and heavy-duty diesel vehicles. The PN-PTI testing requirements cover approximately 1.2 million vehicles, including 700,000 diesel passenger cars (model year 2006 and later), 400,000 diesel vans (2010+), and 100,000 diesel trucks (2013+). About 6,000 PTI garages in the Netherlands have purchased a particle number counter to carry out the new PTI test.
In Germany, where PN-PTI testing was also scheduled to begin this month, the program was delayed due to insufficient supply of approved PN testing instruments. It is expected that the PN-PTI requirements will be introduced later this year, but no official date has yet been announced.
The PN-PTI test results already collected in Flanders, as well as some pilot testing data from the Netherlands have been analyzed in a report by Abeelen APK and ETS. The analysis reveals some trends for the durability of DPF systems for European light-duty vehicles, Figure 1. Among cars aged 10 years, about 10% were rejected and this percentage appeared to increase sharply in older vehicles.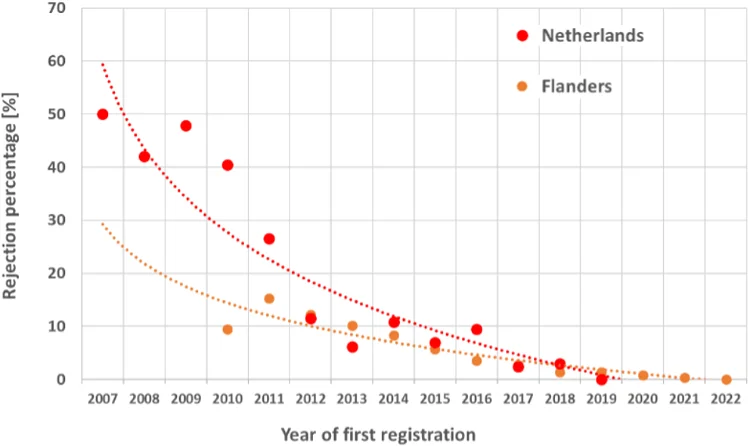 It is uncertain whether the PN-PTI programs in various countries will include DPF age and/or cost limits for the repair of failed vehicles or otherwise adhere to principles of social and environmental justice. Most owners of the diesel vehicles that fail the PN test will come from the less affluent class that cannot afford to drive a new, clean Euro 6 vehicle.
The PN-PTI test has been developed through an initiative of the VERT Association and the Netherlands (Ministry for Infrastructure and Water Management, RDW, TNO, and NMi). While the test protocols, PN limit values, and other requirements are similar in the countries that adopted PN-PTI testing, they are not identical, and each country maintains a separate approval program for PN instruments used for PTI testing.
The European Commission plans to introduce guidelines for PN-PTI testing at the EU level. The guidelines are to be first published separately and then included in the updated Roadworthiness Directive. Several relevant research papers have already been published by the EU Joint Research Centre (JRC) [5713][5714][5715].
Source: VERT Association