Cummins to launch new X10 diesel engine in 2026
14 February 2023
Cummins announced it will launch a new X10 diesel engine in North America in 2026. The engine, intended for medium- and heavy-duty truck applications, will replace both the L9 and the X12 legacy engines.
The 10-liter displacement engine slots between the B6.7 engine for vocational, transit, pickup and delivery, and regional haul applications and the X15 engine for long-haul trucking. The X10—marketed by Cummins as part of the 'fuel-agnostic' engine platform—will start as a diesel engine and add gaseous fuels later.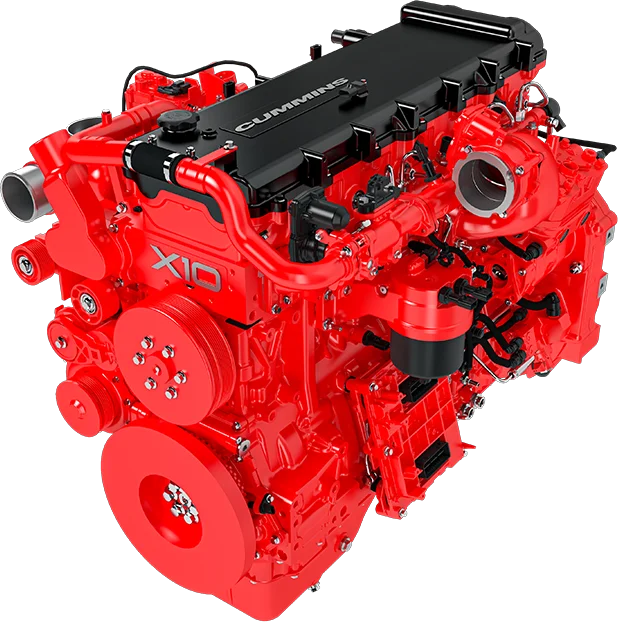 The expected medium-duty ratings of the X10 range from 320 to 380 hp with torque ratings of 1000 to 1250 lb-ft at 2100 rpm. For heavy-duty applications, the expected ratings are from 350 to 450 hp, with torque from 1350 to 1650 lb-ft at 1800 rpm.
The X10 engine will be compliant with US EPA 2027 emission standards (FTP NOx = 0.035 g/bhp·hr) one year ahead of the regulatory deadline, while providing a step change in fuel economy improvement, Cummins said. For further reductions in carbon emissions, customers may choose to use B20 or renewable diesel.
The X10 architecture uses a belt-driven, high output 48-volt alternator and unspecified "aftertreatment heater" technology optimized for stringent emission standards. The engine will be scalable to other "advanced combustion technologies".
Diesel will remain a critical technology for the commercial vehicle market for years to come, and Cummins will continue to support it, the company said. The X10 engine will first be available in Europe and North America. Over the time, it will be introduced in other regions and will be made for off-highway markets as well.
The engine can be paired with a variety of transmissions depending on the application including the Eaton Cummins Endurant, a product of Cummins' joint venture with Eaton. The engine is equipped with Acumen, Cummins digital hardware and software technology that provides digital connectivity and direct, immediate access to a range of applications and capabilities, such as over-the-air calibration and predictive service.
Source: Cummins