First orders for MAN G80 dual-fuel methanol engine
10 March 2023
Hyundai Samho Heavy Industries Co. and HJ Shipbuilding & Construction Co. (HJSC) have respectively ordered seven and two MAN B&W G80ME-LGIM dual-fuel engines in connection with the construction of 9 × 9,000 TEU container vessels for HMM Co., a major South Korean integrated-logistics company. HMM ordered the nine methanol-fueled vessels last month, with the combined value of the orders at $1.12 billion.
The engines represent the first order for the G80 bore size; they will also feature MAN Energy Solutions' (MAN ES) EGR systems. The newbuildings will be delivered to HMM from 2025 and will operate on routes to North and South America as well as India.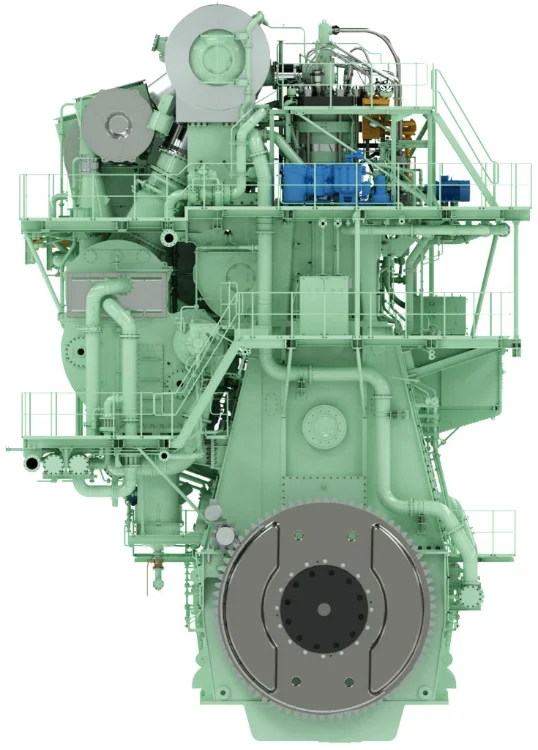 MAN ES developed the ME-LGIM (Liquid Gas Injection Methanol) dual-fuel engine for operation on methanol, as well as conventional fuel. In the methanol mode, a diesel pilot is used for ignition. The engine is based on the company's proven ME-series, with its approximately 8,500 engines in service, and works according to the Diesel principle. When operating on 'green' methanol, the engine offers a low-carbon propulsion option for large merchant-marine vessels.
The ME-LGIM engines can comply with IMO Tier III NOx emission standards by using low- or high-pressure SCR, high-pressure EGR, or water in methanol. Tier III emissions can be achieved by running the engines on methanol mixed with 25-40% water and 5% diesel pilot, without the need for SCR or EGR systems, according to MAN ES.
The first vessels powered by MAN ME-LGIM engines entered service in 2016. They were seven methanol carriers powered by MAN B&W 6G50ME-LGIM engines, operated by Waterfront Shipping Company Ltd.—a subsidiary of Methanex Corporation, the world's largest methanol producer.
The vessels were powered by first generation Mk. 1.1 engines, which suffered from corrosion and cavitation problems in the methanol injection system. The ME-LGIM engines have since been redesigned to the current, Mk. 1.2 generation.
Last year, MAN ES announced an order for 12 MAN B&W 8G95ME-LGIM engines for a series of 16,200 TEU ocean-going container vessels for A.P. Moller - Maersk. Maersk ordered the engines with an expressed intention to operate them on renewable methanol.
With the newest order, MAN ES now has over one-hundred ME-LGIM engines on order or in service.
Source: MAN Energy Solutions