MAN announces V8 yacht engines with SCR catalyst for IMO Tier III
1 September 2023
MAN Engines has expanded its engine portfolio for yachts and sport fishing boats to include V8 engines meeting the IMO Tier III emission standards. In addition to the V12 engines with SCR catalytic converter, V8 engines from 735 to 956 kW (1,000 to 1,300 hp) are now also available with the exhaust gas aftertreatment system.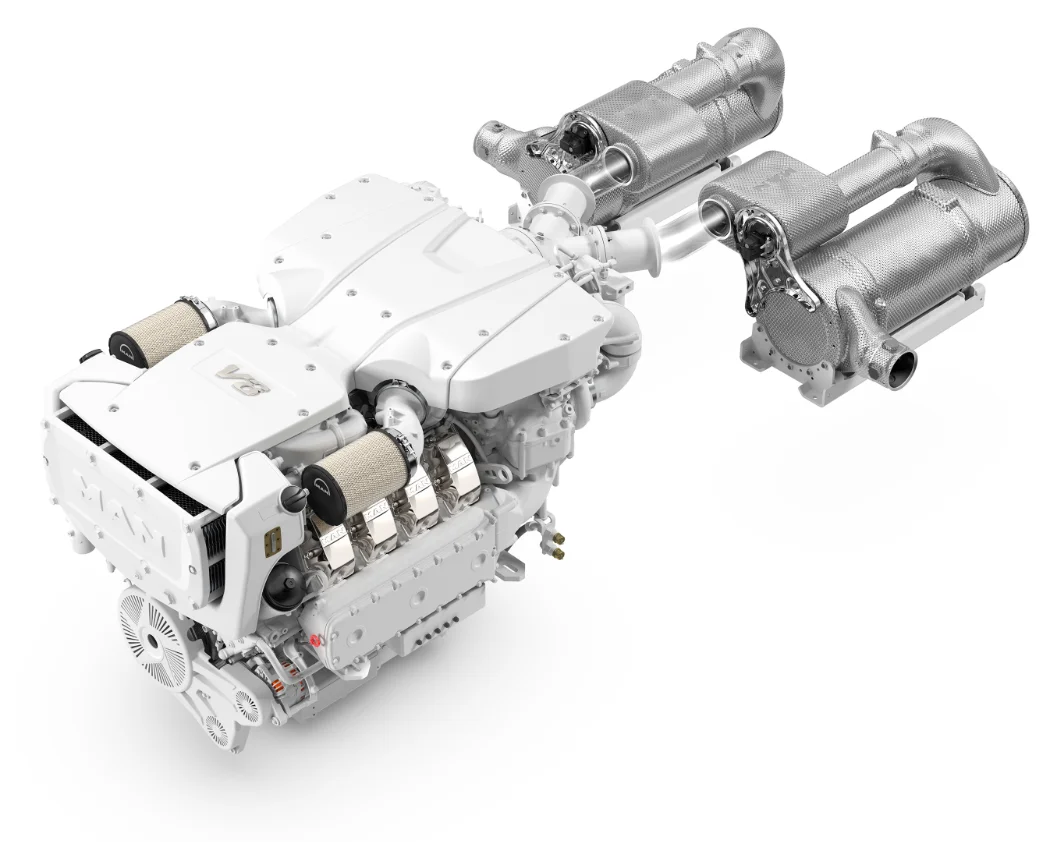 With its six-, eight- and twelve-cylinder engines, MAN Engines' complete portfolio for yacht engines covers a power range from 537 to 1,618 kW (730 to 2,200 hp). The engine types meeting IMO Tier III emissions include V8-1000 (735 kW), V8-1200 (882 kW), V8-1300 (956 kW), V12-1550 (1,140 kW), V12-1650 (1,213 kW), V12-1800 (1,324), V12-1900 (1,397 kW), V12-2000 (1,471 kW) and V12X-2200 (1,618 kW).
The first V8 yacht engines with common-rail technology on the current MAN platform were launched in 2009. Since then, many thousands of V8 and V12 engines on this platform have been established on the market and engines have been adapted to the latest emission specifications.
Like the previous portfolio without exhaust aftertreatment, all MAN marine engines with SCR catalytic converters are approved for use with renewable diesel fuel (hydrogenated vegetable oil, HVO).
MAN Engines uses its modular exhaust gas aftertreatment system to comply with the IMO Tier III emission limits. A positive side effect of using SCR aftertreatment is a further reduction in fuel consumption by three to eight percent, MAN said, as the engines can be calibrated to a higher engine-out NOx level. The emission system does not include exhaust gas recirculation or a particulate filter.
MAN Engines' modular exhaust gas aftertreatment system was first unveiled in 2017. The first V12 engines with SCR systems were launched in 2019. The MAN SCR technology is based on the know-how of MAN Truck & Bus SE. In 2006, the company has integrated SCR systems in series production in its trucks. In 2015, MAN Engines has also introduced SCR aftertreatment in engines for agricultural machinery and for industrial applications.
Source: MAN Truck and Bus