Japanese 10 Mode
The 10 mode cycle [Japanese Industrial Safety and Health Association, JISHA 899, 1983] was used for emission certification of light duty vehicles in Japan. It had been replaced by the newer 10-15 mode cycle.
The 10 mode cycle simulates urban driving conditions. The entire cycle begins with a 15 minutes warm-up at 40 km/h, followed by six repetitions of the same segment, Figure 1.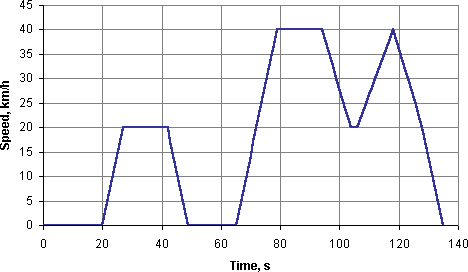 One segment of the 10 Mode cycle covers a distance of 0.664 km at an average speed of 17.7 km/h and lasts 135 s. The maximum speed is 40 km/h. Emissions are measured over the last five segments (so the emission measurement period represents a route of 3.32 km, completed in 675 s). Emissions are expressed in g/km.