CARB approves Advanced Clean Cars II regulation
25 August 2022
The California Air Resources Board (CARB) approved the Advanced Clean Cars II (ACC II) rule that establishes a year-by-year roadmap so that by 2035 100% of new cars and light trucks sold in California will be 'zero-emission vehicles'—defined as zero tailpipe emission vehicles and plug-in hybrid electric vehicles. The regulation codifies the light-duty vehicle goals set out in California Governor Newsom's Executive Order N-79-20.
ZEV Program. The regulation accelerates requirements that automakers deliver an increasing number of zero-emission light-duty vehicles each year beginning in model year 2026. Sales of new ZEVs and PHEVs will start with 35% that year, build to 68% in 2030, and reach 100% in 2035.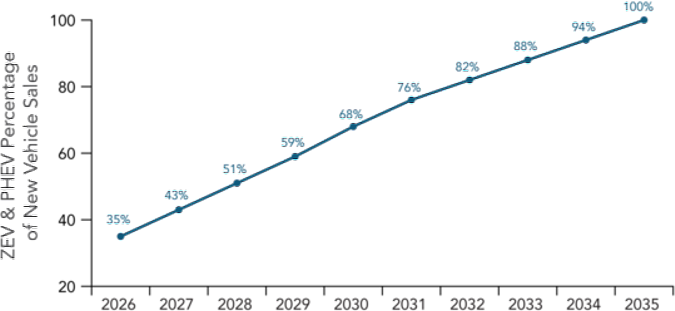 The regulation applies to automakers (not dealers) and covers only new vehicle sales. It does not impact existing vehicles on the road today, which will still be legal to own and drive.
Plug-in hybrid, full battery-electric and hydrogen fuel cell vehicles count toward an automaker's requirement. PHEVs must have an all-electric range of at least 50 miles under real-world driving conditions. Automakers will be allowed to meet up to 20% of their overall ZEV requirement with PHEVs.
Battery-electric and fuel cell vehicles will need a minimum range of 150 miles to qualify under the program, include fast-charging ability, and meet new warranty and durability requirements.
By model year 2030, the rules require vehicles to maintain at least 80% of electric range for 10 years or 150,000 miles (phased in from 70% for 2026 through 2029 model year vehicles). By model year 2031, individual vehicle battery packs must be warranted to maintain 75% of their energy for eight years or 100,000 miles (phased in from 70% for 2026 through 2030 model years). ZEV powertrain components must be warranted for at least three years or 50,000 miles.
California Legislature has approved $2.7 billion in fiscal year 2022-23 and $3.9 billion over three years in ZEV subsidies and financial support for California's 'most environmentally and economically burdened communities'. These programs include:
Clean Cars 4 All provides up to $9,500 to low-income drivers who scrap their older vehicles and purchase ZEV vehicles.
The Clean Vehicle Rebate Project (CVRP) provides up to $7,000 for income-qualified drivers to buy or lease a ZEV.
The Clean Vehicle Assistance Program provides low-income car buyers with special financing and up to $5,000 in down-payment assistance.
LEV IV Program. ACC II also includes updated regulations for criteria pollutant emissions from light- and medium-duty internal combustion engine (ICE) vehicles—called LEV IV program. The key change is the elimination of ZEV vehicles from the NMOG+NOx fleet average calculation, which means that the mandated emission reductions have to be achieved by improvements in the ICE engine and vehicle technology alone. Other LEV IV changes include the elimination of the highest emission certification bins and tightened cold start and evaporative emission requirements.
A number of so-called Section 177 states are expected to adopt the California ACC II requirements. States that currently follow the California LEV and GHG emission regulations represent about 40% of US-wide car and light truck sales.
To become law, the ACC II rule must be approved by the California Office of Administrative Law (OAL) and CARB must apply for and receive a waiver for the regulation from the US Environmental Protection Agency (EPA).
Source: CARB