Weichai launches a 52% BTE diesel, 54% BTE natural gas engine
22 November 2022
The Weichai Group has launched the world's first commercial diesel engine with base engine's thermal efficiency of 52.28% and natural gas engine with base engine's thermal efficiency of 54.16%. The engines were unveiled at a launch event with the participation of high ranking Chinese political and academic officials.
The brake thermal efficiency (BTE) of the engines was confirmed by certificates issued by Germany's TÜV Süd. Officials from Bosch, SwRI, AVL, as well as several engineering associations, industry institutions, and strategic partners have sent congratulatory letters to Weichai.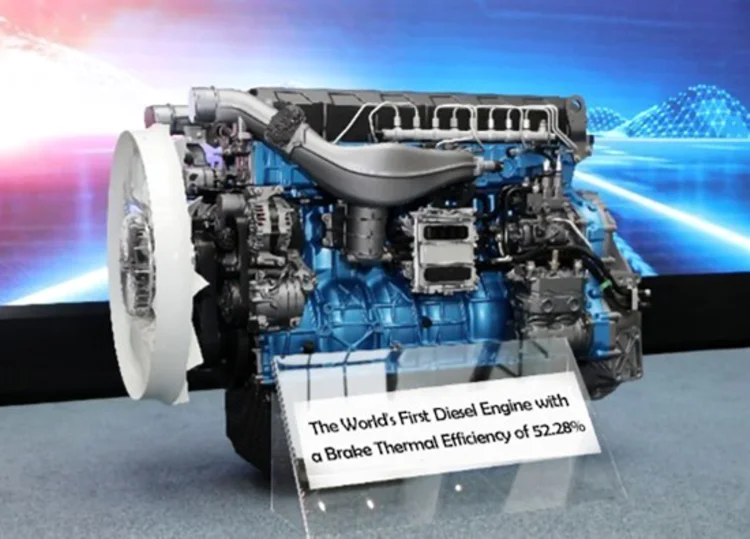 The new diesel engine is an ongoing development that builds on the 50% BTE diesel engine unveiled in September 2020. The main technical improvements in the 52.28% BTE diesel engine include:
Higher turbocharger efficiency, improved by 5%.
New insulation technology ('air insulation' in automatic translation) that reduces heat transfer in the cylinder by 15%.
Reduced resistance of the intake and exhaust pipes.
New injection technology that improves fuel and air mixing and increases combustion speed by 5% ('dual main injection technology' or 'dual master spray technology' in different automatic translations).
The natural gas engine is likely based on Westport high-pressure direct injection (HPDI) technology, however, it is unclear whether or not Westport supplies the gas injection hardware to Weichai.
Technical improvements in the 54.16% BTE natural gas engine include high thermal efficiency technologies used in diesel engines such as high efficiency turbocharging and low friction technologies. The engine utilizes a 'dual-step' (or 'two-step') combustion chamber system, which could mean a stepped lip bowl.
Source: Weichai | 168trucker.com