Updated Wärtsilä 31DF engine reduces methane emissions by an additional 41%
2 November 2023
Wärtsilä has commercially launched a new ultra-low emissions version of its 31DF dual fuel engine that, when operating on LNG, can further reduce methane emissions. At a 50% load point, methane reductions up to 56% and NOx reductions up to 86% are claimed. Cycle weighted methane reductions are 41% more than the standard Wärtsilä 31DF engine.
The new version is applied on one of the four engines on board Wasaline's Aurora Botnia ferry and helped the ferry operator further reduce the Aurora Botnia's methane emissions by 10%. As part of the EU co-funded Green Ray and SeaTech projects, Wärtsilä piloted the ultra-low emissions concept onboard the Aurora Botnia with emission reductions verified through a study conducted in December 2022 by VTT. Encouraged by the positive results, Wärtsilä has now launched the new ultra-low emissions version of the Wärtsilä 31DF engine to the commercial market.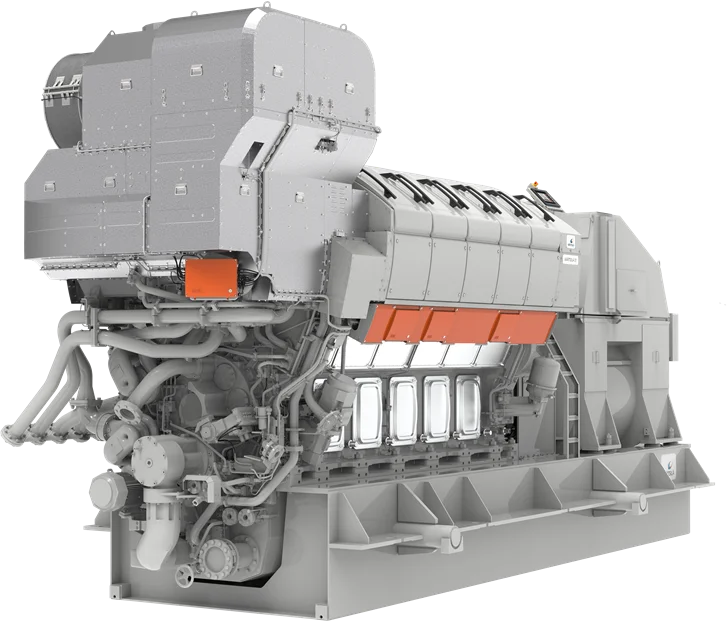 According to a recent review, low-pressure dual fuel natural gas four-stroke engines from 2020-2023 have methane slip values ranging from 6.6-13.05 g/kWh at 25% load and 2.6-4.1 g/kWh at 75-100% load [5866][5789]. Emission measurements carried out in December 2022 on board the Aurora Botnia showed methane emissions from a standard 31DF to be about 6.5 g/kWh at 25% load and about 3 g/kWh above 75% load while for a 31DF with the new combustion concept, methane emissions were about 1.5 g/kWh at 25% to 100% load [5975]. Based on these measurements, CO2-equivalent GHG emissions from the new combustion concept were estimated to be 7-9% lower at high loads and 19% lower at low loads than the standard DF engine.
According to a recent CIMAC paper, Wärtsilä's methane control strategy involves spatially distributed, stable ignition control that resembles a knocking event. The engine does not use EGR or aftertreatment for CH4 control. However, it does require a higher air-fuel ratio compared to the standard DF engine that results in low peak combustion temperatures that provide the NOx reductions [5867].
Other engine developments that utilize control over the autoignition process include those by Woodward and Mazda. Woodward's "Flame Triggered Auto-Ignition" for natural gas engines uses EGR and a spark-ignited stoichiometric mixture to achieve volumetric auto-ignition during the second half of the heat release. Mazda's SKYACTIV-X does something similar with gasoline.
Source: Wärtsilä