Common Artemis Driving Cycles (CADC)
Time-speed points: Urban | Rural Road | Motorway 150 | Motorway 130
The Common Artemis Driving Cycles (CADC) are chassis dynamometer procedures developed within the European Artemis (Assessment and Reliability of Transport Emission Models and Inventory Systems) project, based on statistical analysis of a large database of European real world driving patterns. The cycles include three driving schedules: (1) Urban, (2) Rural road and (3) Motorway. The Motorway cycle has two variants with maximum speeds of 130 and 150 km/h.
Vehicle speed during the Artemis cycles is shown in the following figures. Artemis cycle definitions also include gear changing strategies.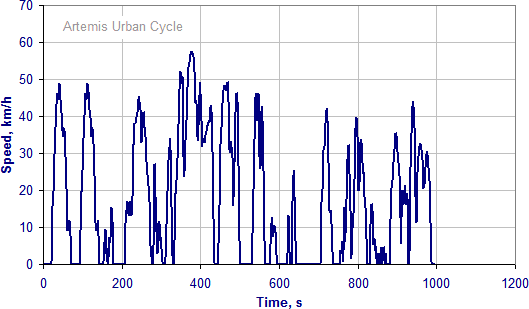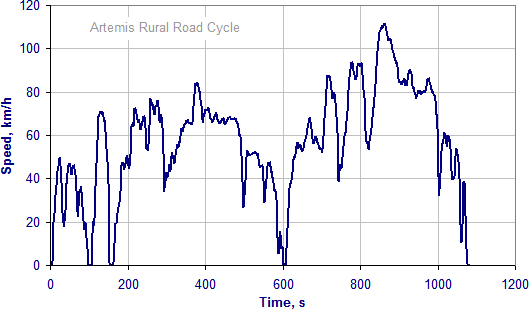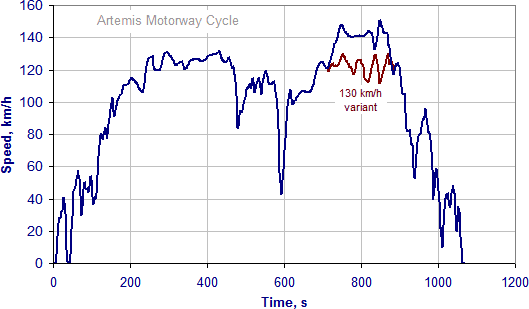 Selected characteristics of Artemis driving cycles are listed in the following table.
Table 1
Characteristics of Artemis Driving Cycles
Characteristic
Urban
Rural Road
Motorway 130
Motorway 150
Duration, s
993
1082
1068
1068
Distance, km
4.874
17.275
28.737
29.547
Average speed (trip), km/h
17.7
57.5
96.9
99.6
Maximum speed, km/h
57.3
111.1
131.4
150.4
Speed distribution, %
- Idle (S = 0 km/h)
21
2
1
1
- Low speed (0 < S ≤ 50)
77
32
15
14
- Medium speed (50 < S ≤ 90)
2
59
14
14
- High speed (S > 90)
0
7
70
71