Denso announces 2500 bar common rail injection system
26 June 2013
Denso Corporation announced a new diesel common rail fuel injection system with 2,500 bar pressure capacity—the world's highest common rail injection pressure, according to Denso. The new system can help increase fuel efficiency by up to 3% while also reducing PM emissions by up to 50% and NOx by up to 8%, compared to Denso's previous generation system. The new injection system will launch later this year on passenger, commercial, agricultural and construction vehicles worldwide.
The design features of the new system include:
Improved design structure to decrease workload of fuel pump: In a common rail system, a portion of the fuel delivered by the fuel pump to the injectors is used for lubricating system components and then returned to the fuel tank. By improving the design structure of the injector, fuel pump, and common rail, the amount of the fuel returned to the tank has been decreased by 90%.
Higher injection pressure: The components have been redesigned and new materials have been used to generate the injection pressure of 2,500 bar.
Compact size: The new high pressure pump is similar in size to the pump used in the previous system.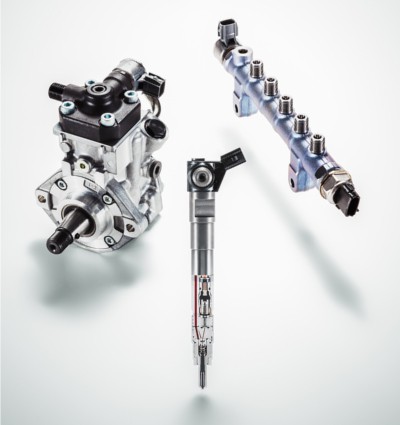 The development of Denso's 4th generation common rail solenoid injector (G4S) and in-line high pressure pump (HP6) was discussed during the SAE Congress in April. The fuel injection system capabilities were demonstrated on a Deere 9.0 L engine. There is a possibility that the Denso system is used in John Deere Tier 4 final engines that meet the emission standards without a particulate filter.
Denso has been a pioneer of the common rail technology. In 1995, Denso (Nippondenso at that time) became the world's first supplier to commercialize diesel common rail systems. In 2002, Denso offered an 1,800 bar common rail system, followed by a 2,000 bar model in 2008. In 2012, Denso commercialized the intelligent-Accuracy Refinement Technology (i-ART), in which the injectors have a built-in pressure sensor to measure fuel injection pressure in real time and control the fuel injection quantity and timing of each injector.
The company is working to develop and commercialize a 3,000 bar diesel common rail system.
Source: Denso