Mercedes-Benz announces RDE-compliant OM 654 diesel engine
27 May 2016
Mercedes-Benz announced the launch of a new four-cylinder OM 654 diesel engine—first unveiled in February—compliant with the coming Real Driving Emissions (RDE) requirements. The company also announced software and hardware upgrades to other models of diesel engines, and plans for a wide scale use of gasoline particulate filters (GPF) on gasoline engines. The investment in new diesel and gasoline engine technology will amount to 3 billion euros.
The newly developed four-cylinder OM 654 diesel engine will be launched in the new Mercedes-Benz E-Class. According to Mercedes-Benz, the new E 220 d is the first diesel vehicle on the market that already meets Euro 6 standards with the new RDE emission limits that are to become effective from September 2017 (so-called Euro 6d-TEMP emission standards).
The new OM 654 features new stepped combustion chambers and redesigned EGR and emission aftertreatment systems. In the new engine, all aftertreatment and EGR components are positioned directly on the engine, instead of under the car floor. This enhances the system's effectiveness and makes it largely independent from ambient temperatures and driving style, said Mercedes. The EGR system includes a high- and a low-pressure EGR loop. The aftertreatment system includes a close-coupled DOC unit, followed by a urea injector and mixer, and by a DPF/SCR unit (SCR-on-filter + SCR).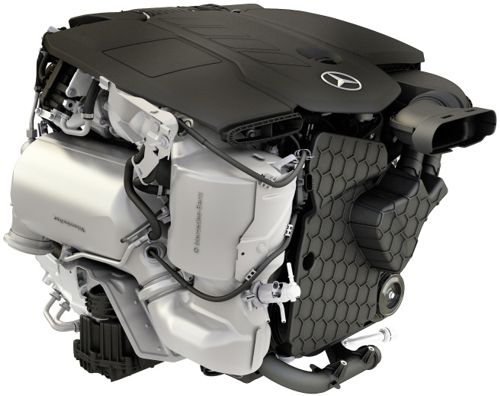 The new E 220 d consumes 3.9 liters of fuel per 100 km (NEDC combined), while the engine is more powerful than its predecessor—143 kW (195 hp) compared to 125 kW (170 hp). CO2 emissions are 102 g/km.
The new four-cylinder engine is the first member of a modular engine family that will be applied throughout the entire portfolio of Mercedes-Benz cars and vans. Several levels of power output are planned, as well as longitudinal and transverse installation in vehicles with front-, rear- and all-wheel drive. Mercedes-Benz will equip its entire range of diesel cars in Europe with this latest engine generation, equipped with SCR emission technology, by 2019.
RDE NOx emissions from the new family of diesel engines have been evaluated by DEKRA, a German vehicle inspection company, who carried out a test program with a Mercedes-Benz E 220 d. The RDE test involves emission measurements using portable emission analyzers while the is driven on real roads, including urban streets, country roads and freeways. The measurements were carried out at temperatures between 2 and 16°C, and with various numbers of occupants and different loads. The NOx emissions were found to be below the Euro 6 NEDC limit of 80 mg/km on all applicable RDE routes, said Mercedes.
Mercedes-Benz also announced emission improvements to current vehicle models. The changes include optimization of turbocharging, fuel injection and intercooling, as well as the application of new materials such as chromized timing chains. These measures result in improved robustness of parts and components that are subjected to stress by combustion and exhaust gas recirculation, noted Mercedes. The operating range of EGR has been extended towards "significantly lower" temperatures. The efficiency of the SCR systems has been increased by modifying the design of the exhaust system and by applying new catalyst materials.
With the entry-level engines of the compact cars (A- and B-Class and the CLA and GLA) and with the V-Class, Mercedes-Benz is offering a software update on cars already in customers' hands, as a voluntary service action to be implemented in the coming months.
In gasoline engines, Mercedes-Benz plans a large-scale use of particulate filters. After more than two years of field tests with the Mercedes-Benz S 500, additional versions of the S-Class with gasoline engines are to be equipped with the GPF technology with the next model upgrade. That will be followed by gradual implementation in further new models, model upgrades and new engine generations. After that, particulate filters will also be applied in the current model ranges.
Source: Daimler